SIMADRE POWER 60SP PILOT ARC 60AMP PLASMA CUTTER 3/4" CLEAN CUT
SIMADRE 60SP Powerful 60 Amp Pilot Arc Plasma Cutter with Power AG-60FP Safety Guarded Pilot Arc Torch

Adopt inverter switching control technology, high reliability, high performance and portable

1 YEAR WARRANTY ON THE MACHINE

1. 220v power source. Anti-static and Anti-corrosive

2. Cuts thick metal quickly and easily

3. Suited for cutting stainless steel, copper, iron, carbon steel and aluminum metal etc.

4. Easy operation, great cutting surface

5. Pilot Arc Non-Touch Arc Starting, suitable for rusted and painted surface

6. Post air flow time

Specifications:

Input power voltage (V) single phases 230V+/-15%

Rated input power capacity (KVA) 7.9

Rated input current (A) 35.8

Input voltage frequency (Hz) 50/60

No-load voltage (V) 230

Output current range (A) 20 - 60

Rated output voltage (V) 104

Duty - cycle % (25 C) 60

No load loss (W) 50

Efficient (%) 85

Power factor (cos) 0.93

Insulation class F

Arc Starting Non-Touch HF

Protection class IP21S

Approx machine size (mm) 410*200*300

Max cutting thickness (mm) 20

Weight approx (kgs) 21

Air flow (m/min) 0.25

Accessories:

Pilot arc plasma cutting torch

Ground clamp, Air regulator, Hose clamp, Air hose, Operation Manual

Notes:

Customer needs to prepare own air compressor and 220V power plug.

Shipping to pr, ak, hi, guam and military stations outside usa will be charged extra per the location.
Accessories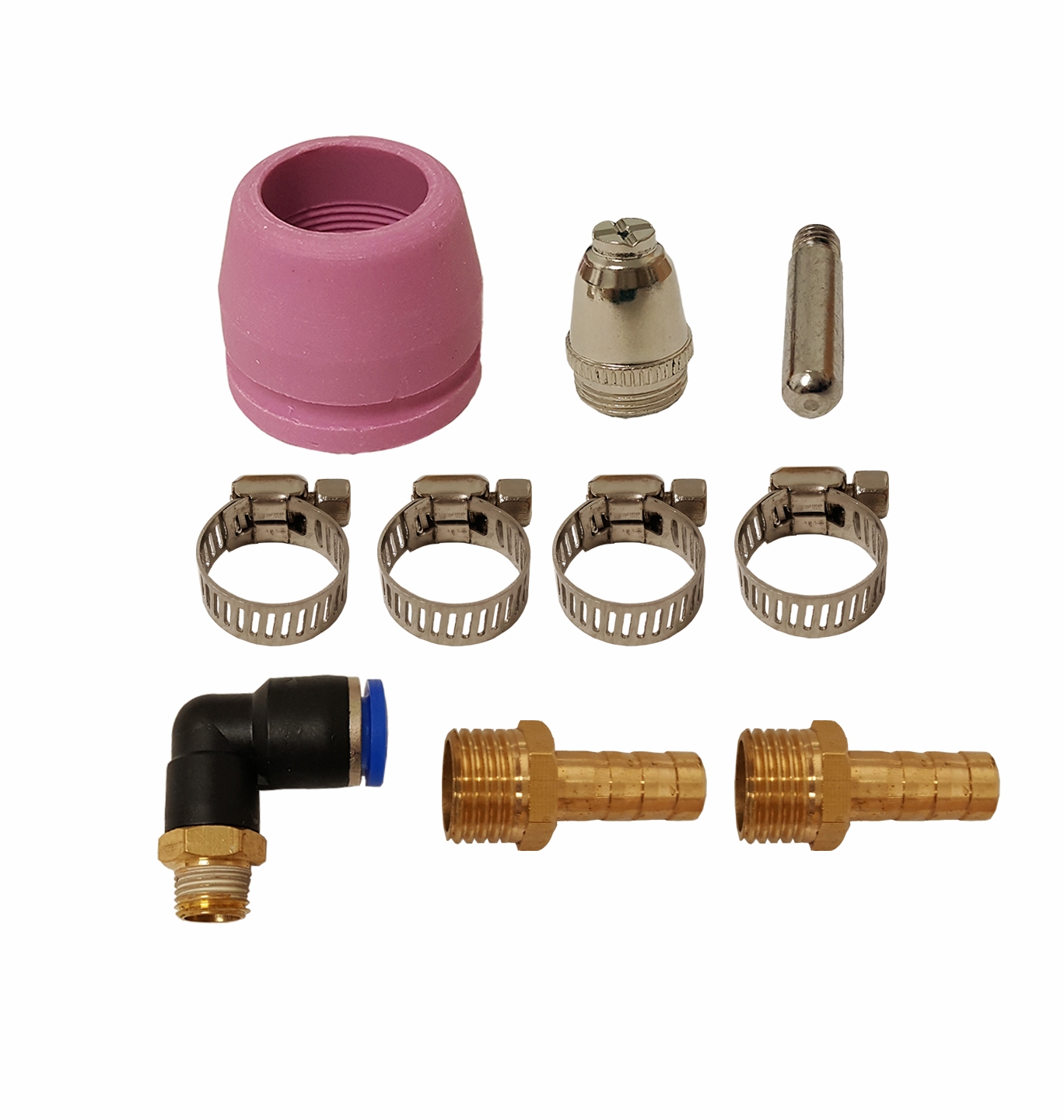 Basic Pilot Arc Consumables